A few months ago we started officially to work as partners with Carto's fantastic team. In the first call, they defined us like "Hardcore GIS" and lovers of design and usability. Great, we like to see ourselves like that as well.
As anyone engaged in the spatial technology field, we had been following closely its progress and strategy. And today we can say that it's really a great pleasure to provide services to our customers with products like Carto. It would be unfair to speak only of the product; It is thanks to a powerful team that makes thinks settled from the outset.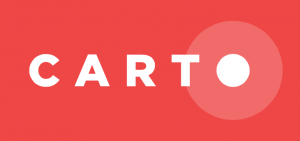 Each Carto success is celebrated almost like ours. It is the success of talent, a way of seeing life, the world and technology. A success that benefits everyone and for which we will continue to fight. http://techcrunch.com/2015/09/10/with-23m-from-accel-and-salesforce-cartodb-will-bring-mapping-to-the-masses/
Some people ask us if we are not rivals. Of course not! We are complementary, Carto is an excellent product we use for many of our developments. We design and deliver geospatial solutions and use many technologies (Carto, Google Maps, MapBox, QGIS etc.).
These technologies are a blessing for people like us, allow us to provide better solutions, but our work is still infinity. Every company, every organization need customization, they need to view maps but also understand the spatial component to BI, Big Data, Machine Learning, etc. We put this all together and display results through products as Carto.
We have completed our first project together (FIWARE Map http://map.fiware.org/actors/smes) for Ogilvy and soon we will announce some really big projects that we are working on.
On with the show!