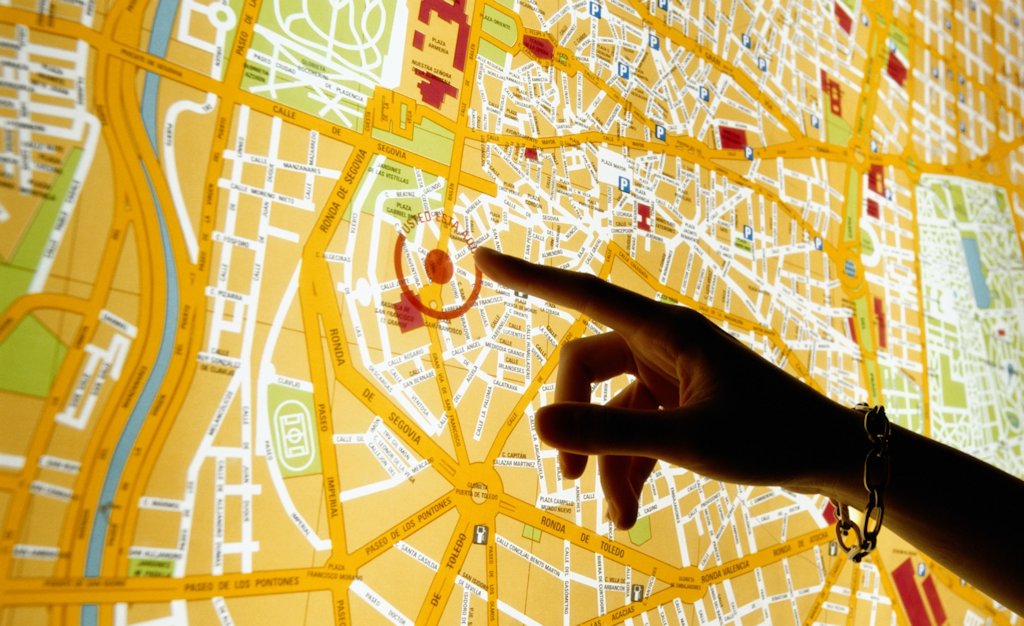 Geomarketing is a concept that is gaining importance within the business environment. Even though  its essence is nothing new, due to the advances in GIS technology and the ones in displaying massive amounts of data -BIG Data or Data Science-, it has become a revolutionary tool for making strategic decisions. Let´s get started.
Making strategic decisions requires to manage large amounts of information and in many cases, the volume is that big that it becomes difficult to handle. As a result, the decision-making process loses quality.
Geomarketing refers to the analysis of that information according to the geographic situation of each of the points of interest.  In this way, it allows to decide whether  to perform or not, a   specific actions depending on the characteristics of the particular area.
Let´s start by explaining what is Geomarketing and how it works.
GEOMARKETING
The geomarketing is the integration of geographical intelligence in various aspects of marketing, that is the reason for its name.
As we mentioned earlier, it is not a new concept, since it is based on the localized application of strategies according to the characteristics of a particular sector. However, the reason why now is becoming essential for making strategic decisions is related to how  geographic information systems (GIS) is being developed and the processing, management and visualization of large amounts of information -BI, Data Science and BigData-.
Due to the development of solutions that integrate GIS as well as data management and display, the information which was previously confined to endless Excel and hundreds of files and reports, is compacted into a single tool that processes and displays intuitive, concise and clear information through a scorecard way. Saving time, money and increasing the quality of decisions.
Depending on the specific needs of each company, public and private data can be combined, for example in terms of landing information, we can use the land registry information -public- alone, combined with  or only private data is represented. An example where the geomarketing comes into play is to decide the location of a new center based on the profile of potential clients,  points of sales and competition.
Its main objective is to give high quality information for business decision-making based on spatial variable, enabling the company to analyze barriers from a new perspective and evaluating information that without the display on a map would not have been possible . The predictions made by this discipline belong to a growing aspect of analysis known as "geospatial analysis."
Depending on the level of detail to be used, different studies can be classified as  micromarketing (for segmenting a portal, for example) or macromarketing level (for a municipality or province).
Even though the perfect environment to apply geomarketing is companies that are  extended geographically in different markets and managing large volumes of information, such as supply companies, large telephone companies and distribution, every day is applied to companies with a much smaller size in any other sectors.
Geomarketing to make strategical decisions in your company.

The efficient decision making process is a key factor for increasing the revenue of any company. Analysing periodically reports gives you information that allows you to analyse what is working and what is not.
Imagine you want to make a new campaign, open a new establishment, know the position competition, etc. Research is the most important element in this process, as it will allow us to know more fully the problem to provide effective and tailored solutions.
– Data Interpretation more visual and intuitive.
All the data you need for your research embodied in a map with visual icons and distinguishing colors. With the ability to select which ones you want to appear and which are not.
– New Perspective for your business
See the information from a different perspective, gives us the ability to develop a different points of view of problems. Geolocation allows us to open ourselves to a new world of possibilities.
– Integrated all the information in only one system.
When you analyze the data through reports, these data are separately in several documents: a document with information from all customers, excel with competitive information, a statistic of 200 pages … We are human and our ability does not allow us to merge while five different databases, but software itself is capable.
– Solutions developments due to Artificial Intelligence.
The artificial intelligence of these softwares provide us customized solutions that automatically generates the results we expect. Complete results that integrated a lot of variables.
– Segmentation and location of your clients and target.
You can choose to see on a map where are your customers or target. Not only that, these tools give you the ability to segment by age, sex or any other feature you need. Interesting, right?
Geomarketing in practice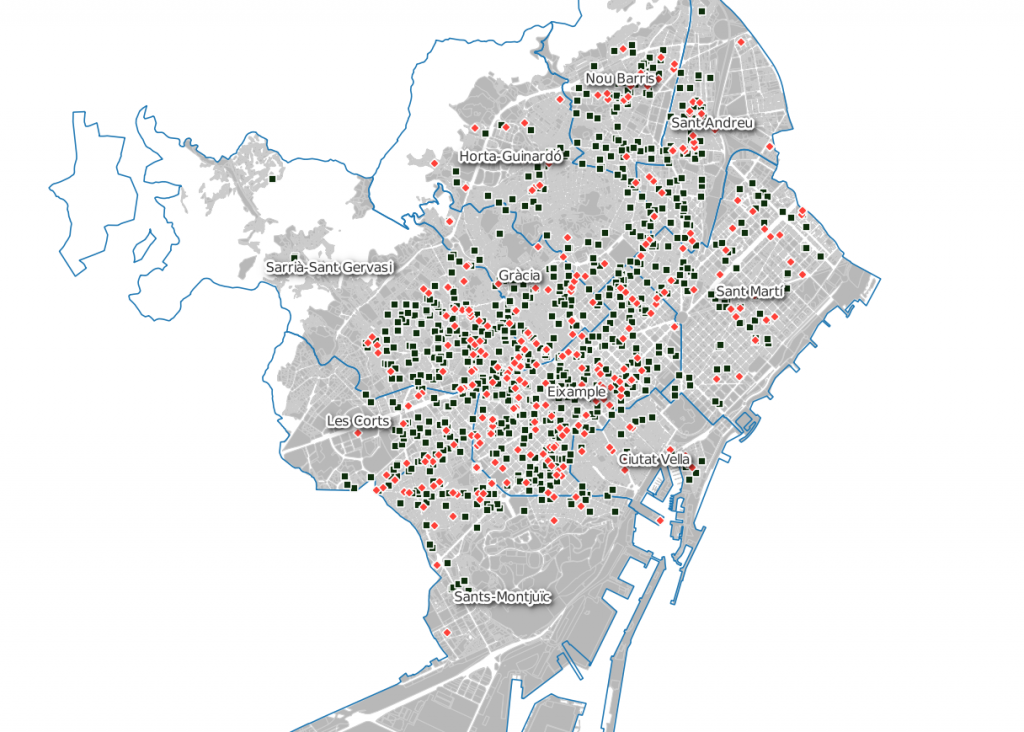 Here we present a briefing from one of our use cases: The geomarketing applied to strategic decision making.
In this case, what was sought was the best location for the opening of a new center in Barcelona based on various sociodemographic, closeness of competition and effect on other clinics in the same group already fully operational criteria.
Thanks to the management, organization and integration of both own data and those from public databases, such as for example the cadastre through a process of geocoding, viewing them became possible on the map, to be transformed into coordinates.
In this case, thanks to geomarketing solution developed, it could combine and display information based on criteria such as age, number of children, level of competition and potential for such business influx cadastral parcel – the minimum geographical unit-:
Based on this and knowing the profile of your ideal prospect, geo-marketing solution is able to identify based on the established criteria which are the best locations.
The solution provides accurate and detailed information on areas in Barcelona most beneficial and effective to position its new establishment and taking into account all factors previously studied.
For more info on this case, we leave the link the whole case:
http://beta.geographica.gs/es/casosestudio/geomarketing/
As we have seen, the integration of geographic intelligence in making strategic decisions and corporate marketing represents an increase of courage and implementation of more effective, innovative and evidence-based strategies. More and more companies decide to implement it for their benefits, What are you waiting for?